Features:
Material: Neoprene
Item Type: Dog Elbow Brace Protector Wraps for Elbow Surgery Injury with Reflective Stripes,Bracing
Suitable for :Small/medium/large dogs
Category:DOG BRACE>ELBOW BRACE
Details pictures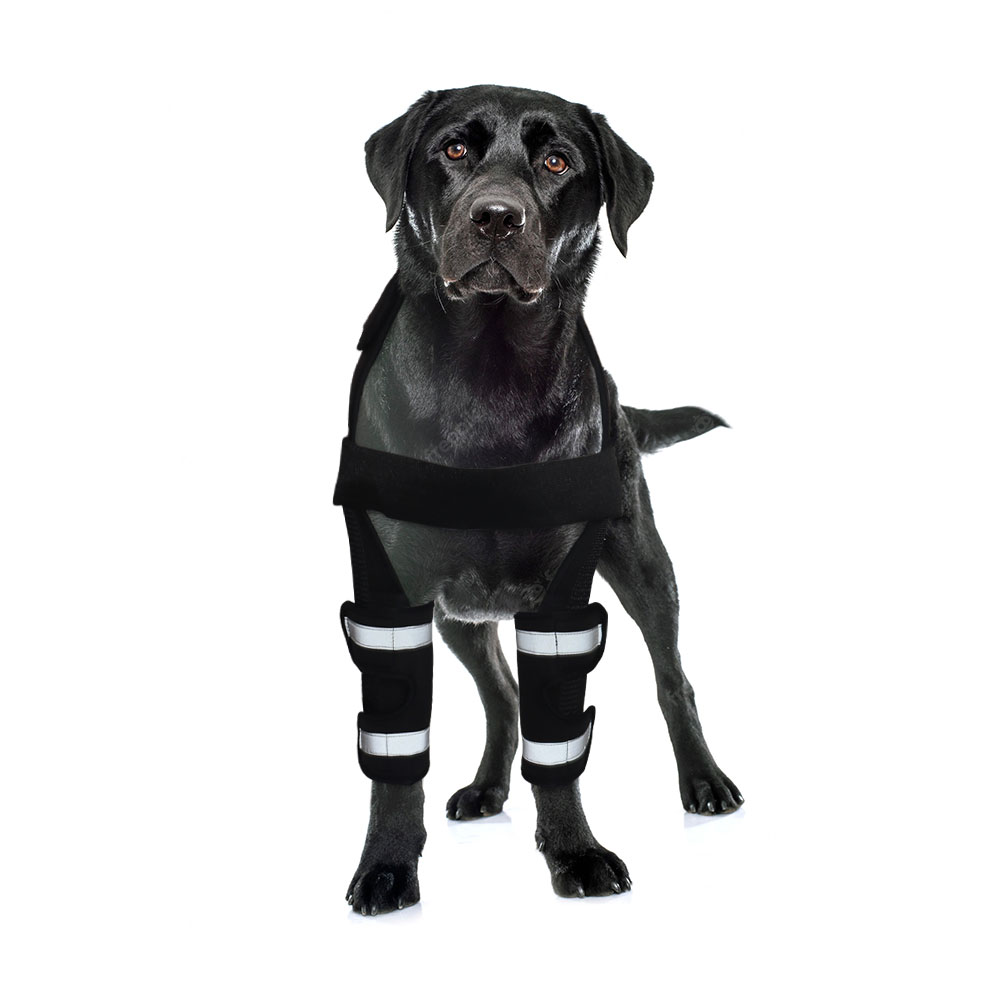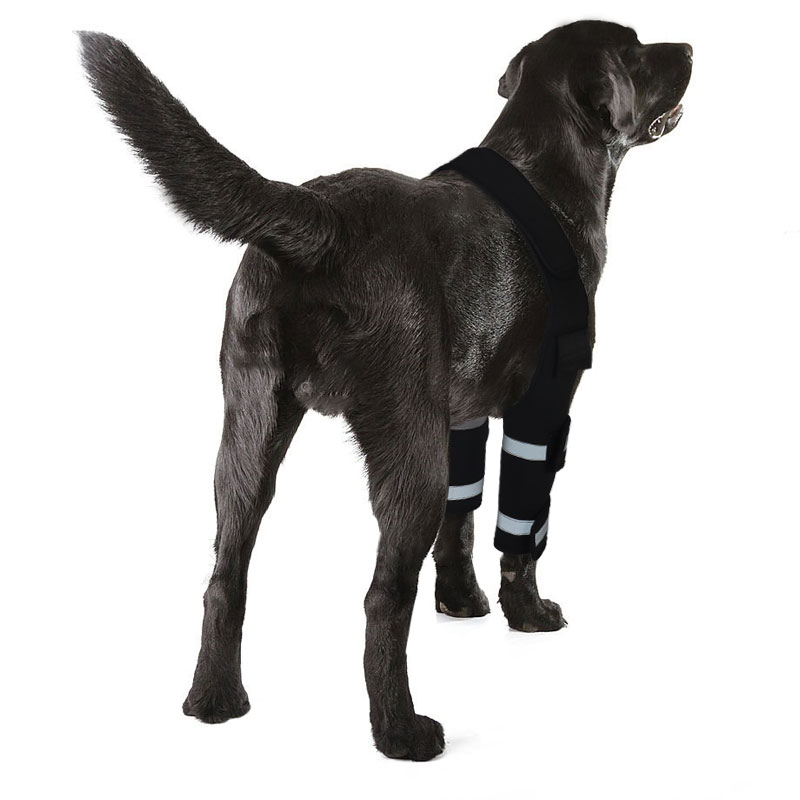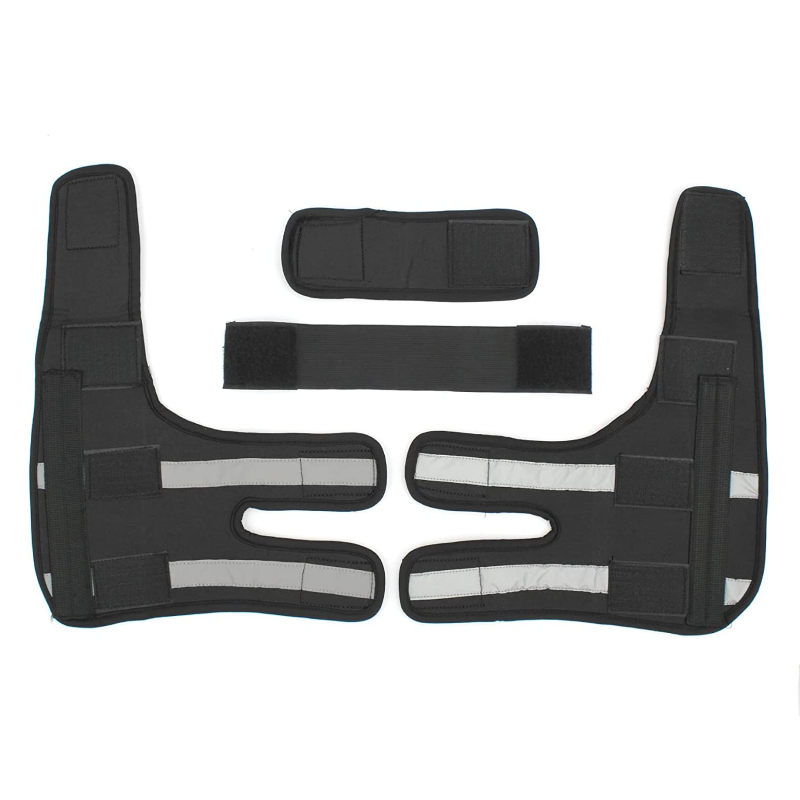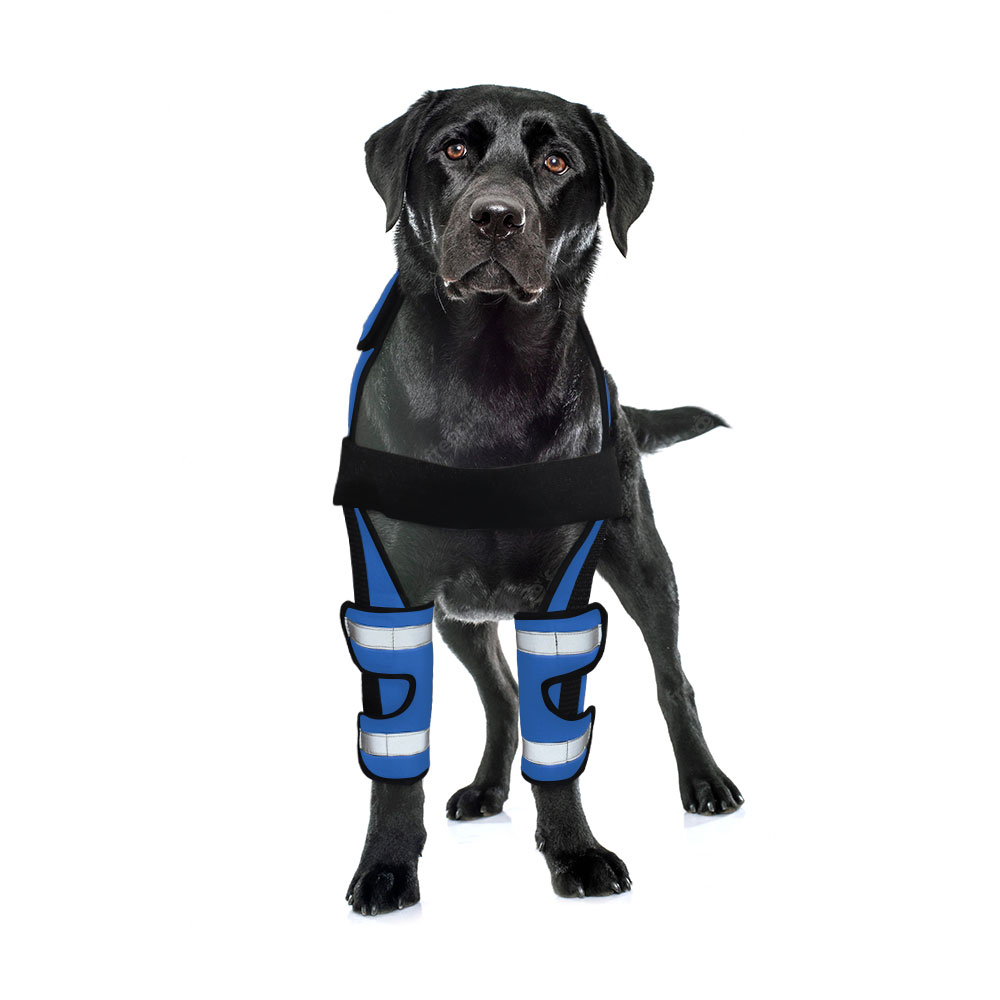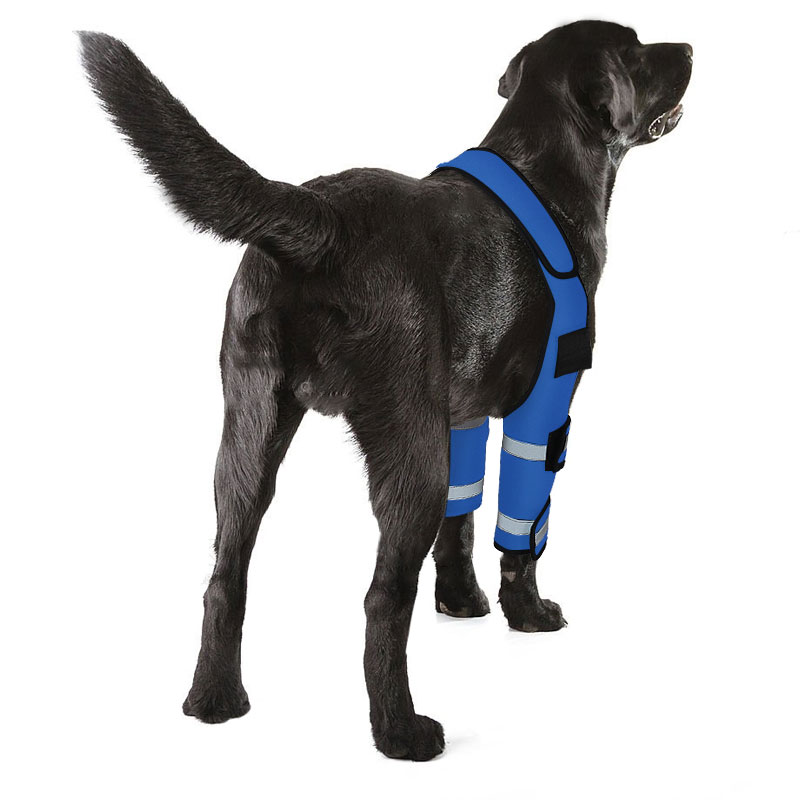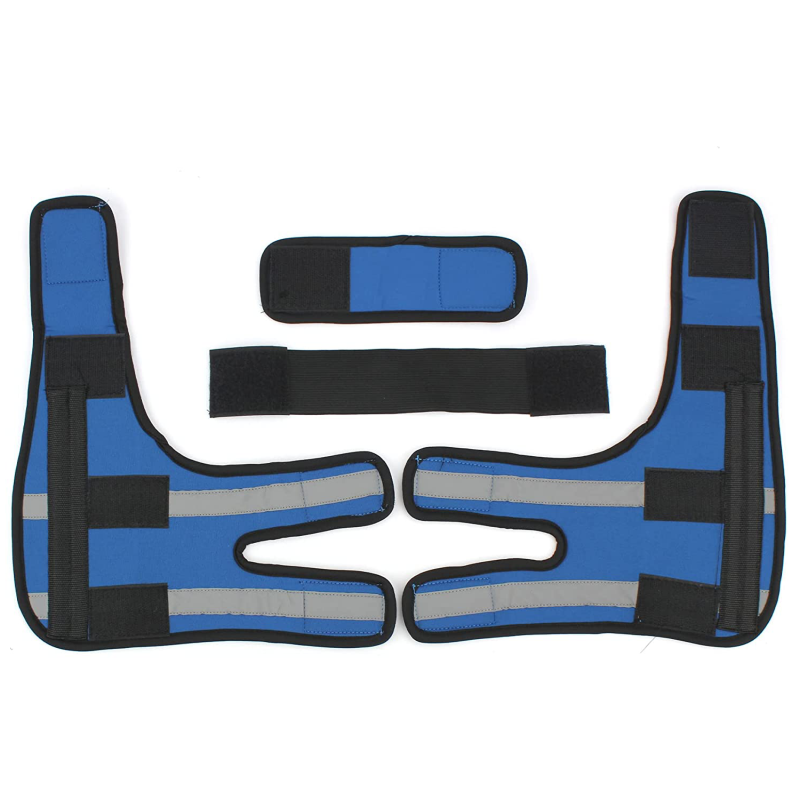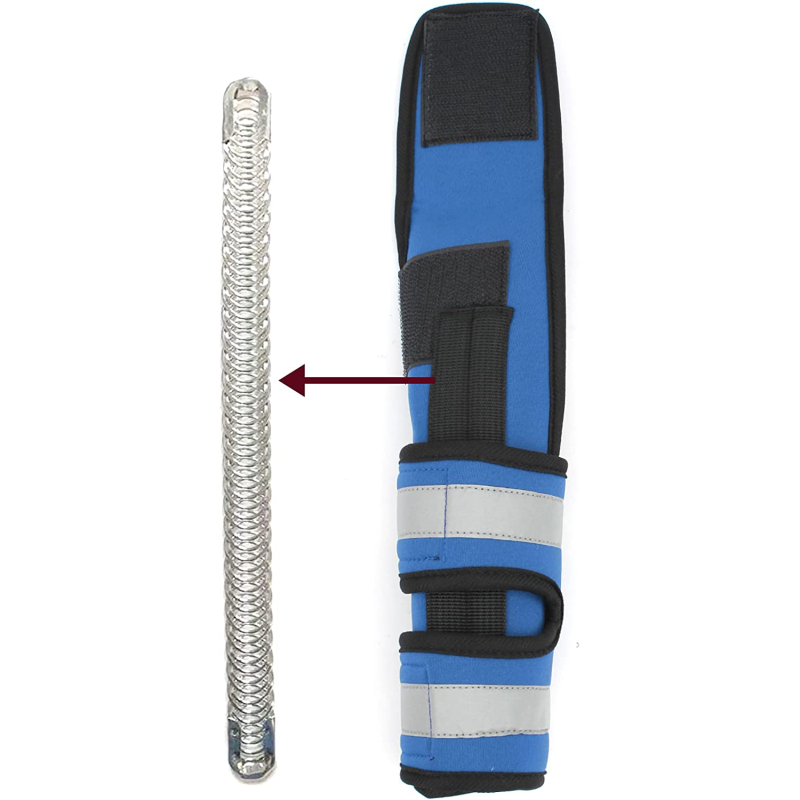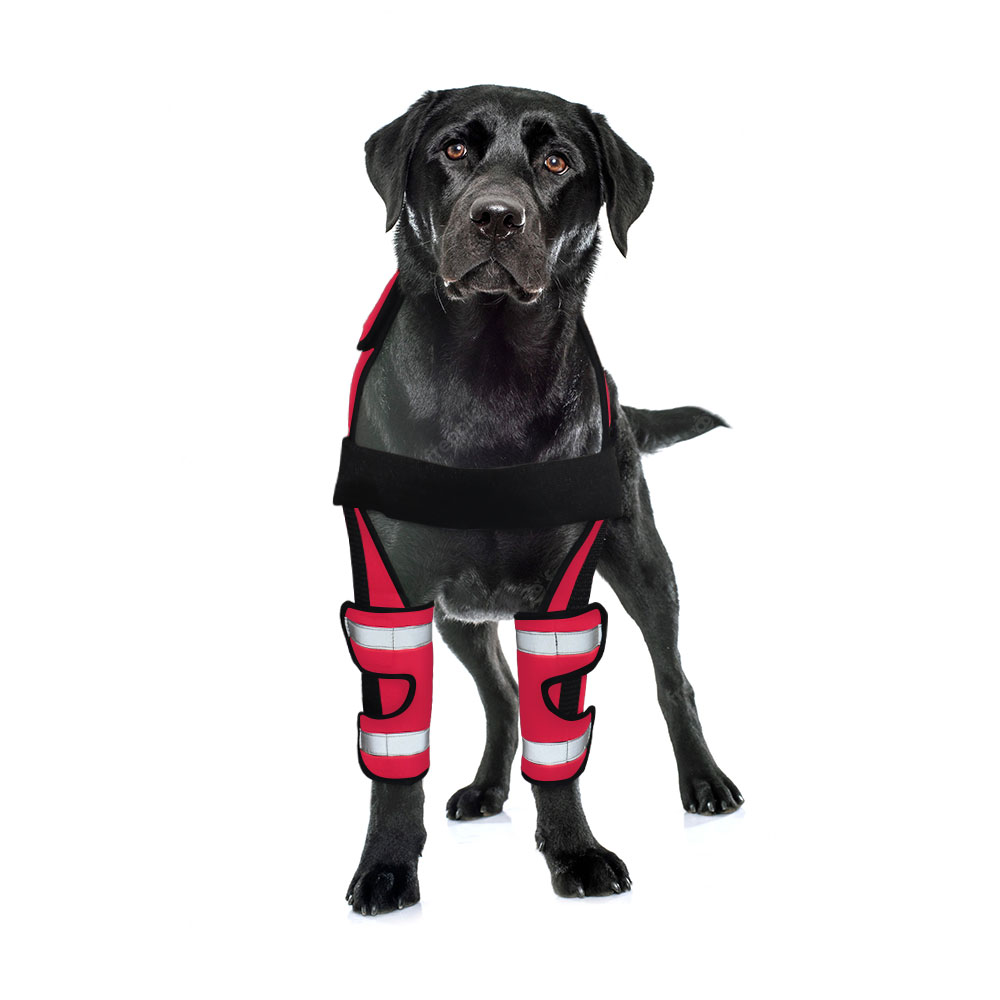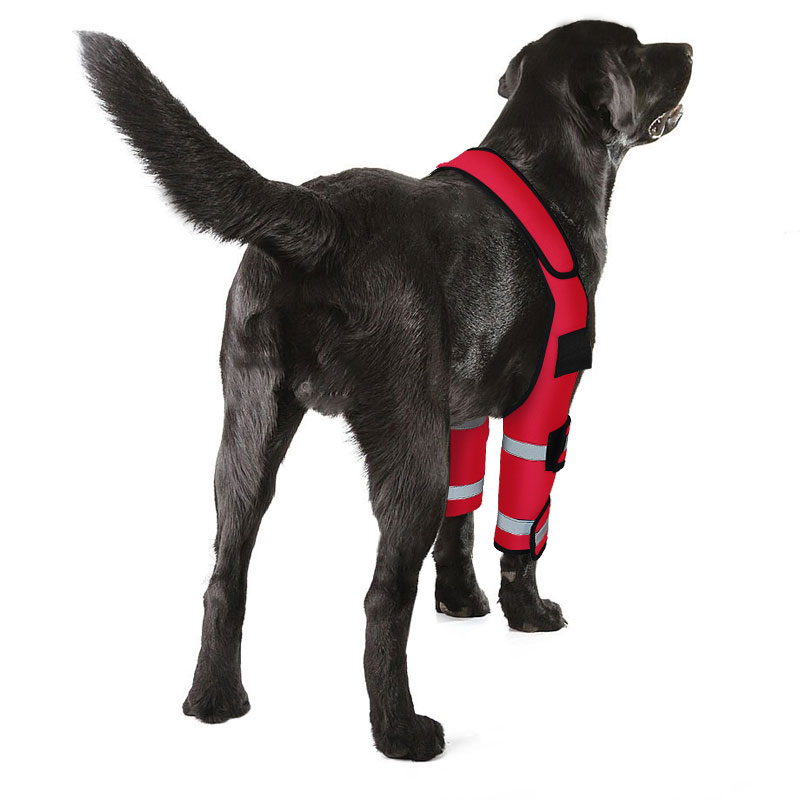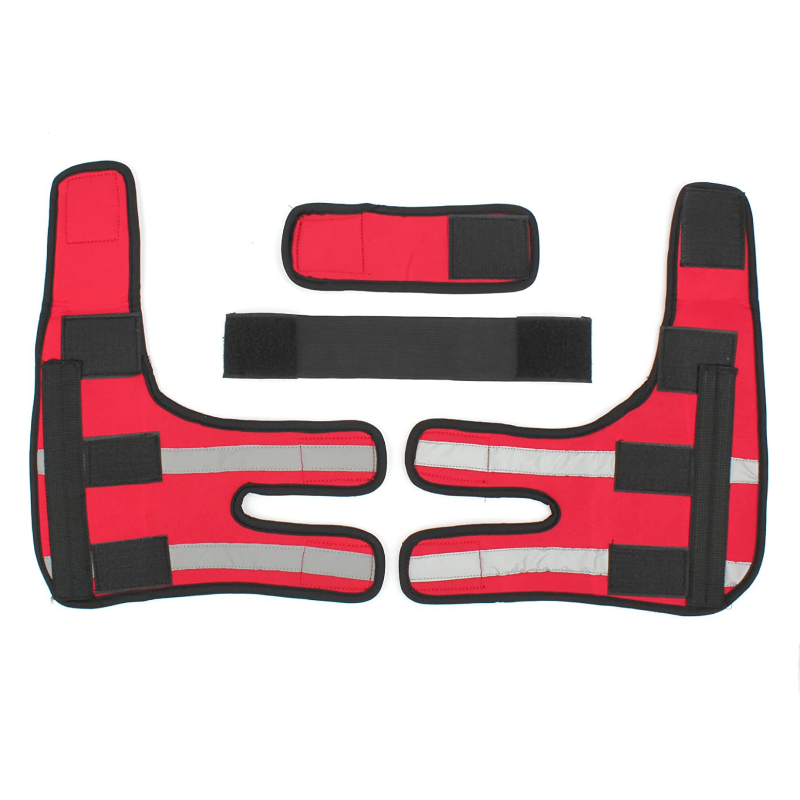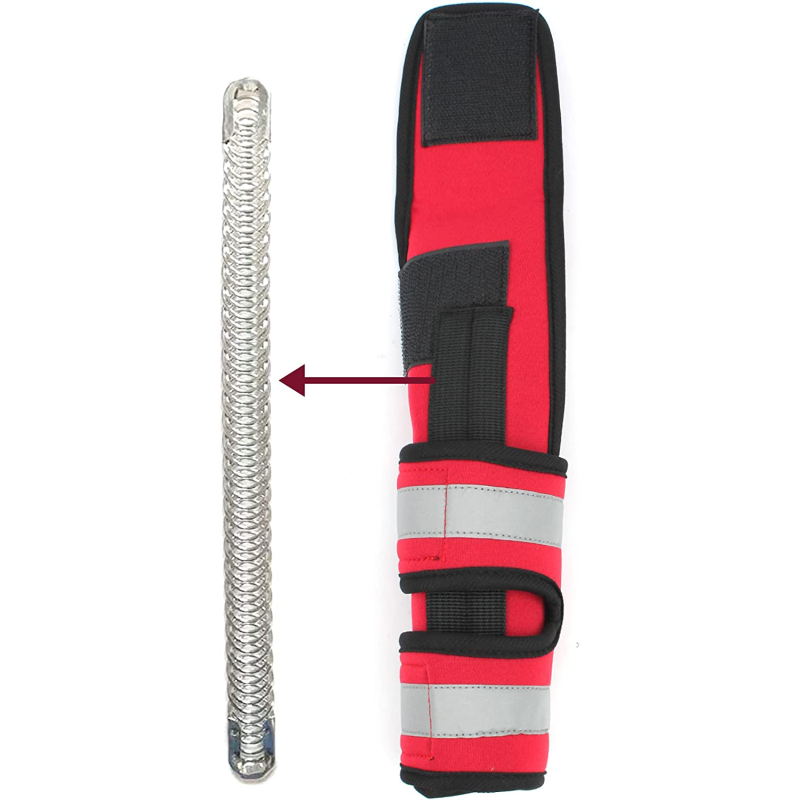 Pros of Dog Elbow Protector:
1.Offers elbow and shoulder support
2.Help improve mobility in canines and felines with elbow hygroma, dysplasia, arthritis, and shoulder dislocation.
3.Fight back against mobility limiting joint conditions such as arthritis
4.This dog elbow brace is easy to use and comfortable option for dogs
5.Help with stabilizing and supporting their hock joint.
VETAPPROVED AND RECOMMENDED CHOICE
speed up the wounds healing and prevent the skin get infection.
SIZE
Steps to measure the proper size:
1) Get a tape measure or something else you can use to measure.
2) Measure the outline of the leg at the height of the elbow.
3) Have a look at our size chart and pick the size that fits your measurement.
4) If you are unsure about two sizes, it is always best to pick the bigger one.
SIZES CHART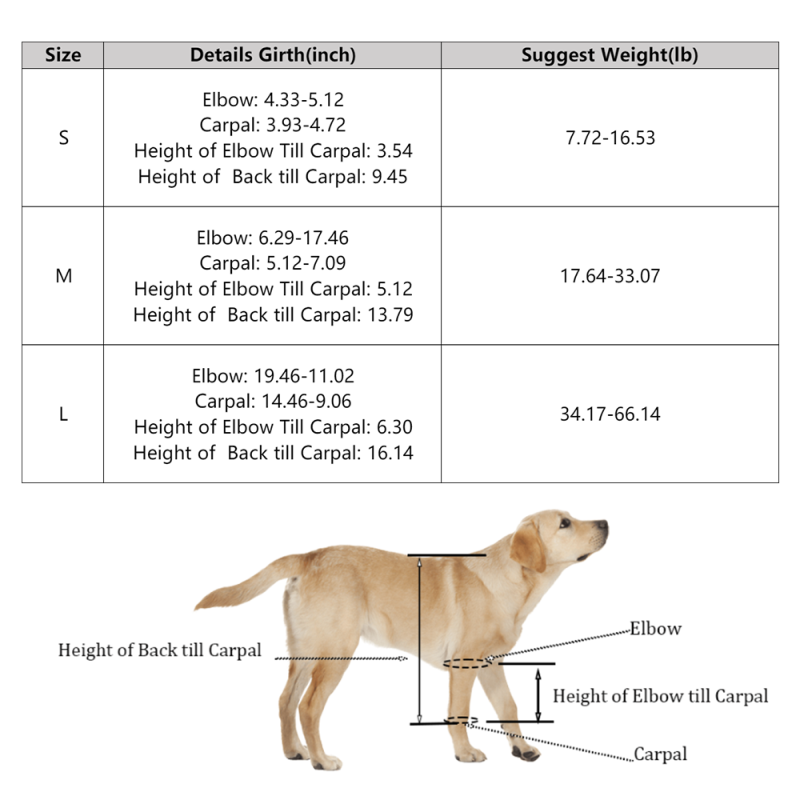 Usage Instructions
1.Strentch the elbow protector well before putting it on.
2.Place the elbow wrap around the legs stably.
3.Adjust the velcro to suitable for the dogs' size.
4.Please be watching when your dog slowly moving,you could tighten or loosen the velcro to the most comfort position.
5.Remember to remove it when your dog is resting.
Warm tips
During the first few days,when dog using this elbow brace,please keep using time under a few hours only.Since the dog needs adapting the feeling and the neoprene.You could adjust the using time day after day.
Shipping Service
Shipping
We know how important that you receive your order as soon as possible and for this reason we always do our best to use a shipping method that gets your order to you fast.
Shipping Method:FedEx,EMS,DHL,4PX,EUB(Ecnomic Shipping Service)
Ecnomic shipping service will be provided sitewide for free.
Transportation time
Standard ( 7-10 business days )
Affected by Covid-19, there will be some delay on the delivery.
Returning Policy
Order Cancellation
Before the product is shipped or produced you could email to us cancel the order for you.
After order is cancelled you will get full refund during 24 hours.
We cannot cancel the order if the product is already shipped out,but you could email to us after the parcel delivered.Then we could nego the returning process.
Product Returns
Customers have the right to apply for a return within 14 days after delivery the product.
Conditions that could submit the returning request:
Your item must be unused and in the same condition that you received it. It must also be in the original packaging.
To complete your return, we require a receipt or proof of purchase.
We have a designated return address, please email our customer service at service@healpup.com to make sure you send the package to the right address.
Return request handling time : 24-48 hours
Notice:You have to burden the returning or exchange shipping fee (except the product you received is damaged)
Order Refunds
Once your return is received and inspected, we will email to you that we will handle your order refunds, also notify you of the approval or rejection of your refund. If you are approved, then your refund will be processed, Money will back to your original method of payment during 24 hours.
FAQ
1.How does the buying process work?
It is very easy and convenient. You can use this website to buy our products from anywhere in the world at any time. Have a look at the products you are interested in, read the product description which explains the benefits of each product and how you have to measure your dog to find the right size, and then all you have left to do is put the products you want into your cart and check out! We will do the rest and send the product to you as fast as possible!
2.What are the dog elbow pads for?
They can be used for elbow surgery,elbow injury,treating hygromas, calluses, decubitus ulcers, elbow dysplasia, arthritis, swelling and limps that are the cause of pain in so many dogs.
3.Which size do i need?
In the description of each product, you can find a sizing guide. Use a measuring tape to measure your dog and then you will know the right size.
4.Where are the products manufactured?
China
5.Are you qualified to produce such products which can be vital for a dog's health?
You can 100% rely on our knowledge and experience. We are only offering the best of products because we have your dog's health on our mind.
6.Should i talk to my veterinarian about the dog elbow wrap protector?
Yes,of course.This is totally worked.
7.What should we followed to choose a good product for dogs?
Rehabilitation after elbow injury or elbow surgery follows a sequential and progressive multiphased approach with the ultimate goal being to return the dog to its previous functional level as quickly and safely as possible. Several key principles must be addressed when rehabilitating the elbow: (1) the effects of immobilization must be minimized, (2) healing tissue must not be overstressed, (3) the dog must fulfill certain criteria throughout the phases of rehabilitation, (4) the program must be based on current scientific and clinical research, (5) the process must be adaptable to each dog and their specific goals, and (6) the rehabilitation program must be a team effort between the surgeon, rehabilitation therapists, owner, and dog. Communication between each team member is essential to successful outcomes.
8.What is thoracic limb?
thoracic limb lameness caused by elbow pathology occurs commonly in dogs.
9.How many rehabilitation therapy ways?
Rehabilitation therapy typically includes a combination of techniques such as cryotherapy, other adjunctive modalities, manual therapies, and a home exercise program. Rehabilitation therapy is used to help decrease postoperative pain and inflammation, restore range of motion (ROM), improve muscle strength and condition, and return to function. Improved muscle strength and ROM will help to provide long-term pain relief as well as better overall function of the limb and improved quality of life.
10.What is the rehabilitation therapy flow for the canine elbow?
Phase 1—Immediate Motion Stage (Weeks 1–3)
Goals
Improve ROM.
Decrease pain and inflammation.
Restore weight bearing and retard muscle atrophy.
Phase 2—Intermediate Stage (Weeks 4–6)
Initiated once, full ROM, minimal pain/tenderness, and improved lameness have been obtained.
Goals
Normalize motion.
Improve muscular strength and endurance.
Establish neuromuscular control.
Phase 3—Advanced Strengthening Stage (Weeks 7–11)
Initiated when there is full nonpainful ROM, no pain or tenderness, and strength and muscle mass that is 70% of the contralateral forelimb.
Goals
Increase strength and power and endurance.
Increase neuromuscular control.
Prepare for gradual return to sport.
Phase 4—Return to Activity Stage (Week 12+)
Initiated when there is equal thoracic limb muscle symmetry, no lameness at a walk, trot, or when performing tight circles, and a satisfactory clinical examination.
Goals
Return progressively to full off-lead activity and competition.
11.What should we be noticed after dogs arthroscopic elbow surgery?
Your pet has had an arthroscopic elbow examination and surgery. It is important that he is strictly rested for the following 12 weeks. This means lead, toilet walks (into the garden and back) only being kept quiet in the house at all other times.
Please make sure that dogs is not allowed to lick at the wound.